Vantagepoint AI Market Outlook for April 19, 2021
VIDEO TRANSCRIPT
Hello, everyone and welcome back. My name is Greg Firman, and this is the VantagePoint AI Market Outlook for the week of April, the 19th, 2021. Now to get started again this week, we'll begin where we always do with the very important US dollar index. Now, the dollar under pressure as per the previous weekly outlooks. We have the dollar strength at the beginning of the month up until usually just after the nonfarm payroll number and then the dollar sells off. We're taking a little bit bigger of a move down.
U.S. Dollar Index
However, the way we want to look at this with our VantagePoint software is identify that we have verified support coming in at this particular level, and we have our MA diff cross. Now, our predicted RSI is grossly oversold. That doesn't mean the dollar can't go lower. Now, the predicted RSI is sitting at 7.9, not a lot of room to move down here. But again, when we look at this verified support, this is what we want to identify. Now, again, that level is coming in at 91.29. Additional support will continue down to a low of 90.63. We've got improving US economic data.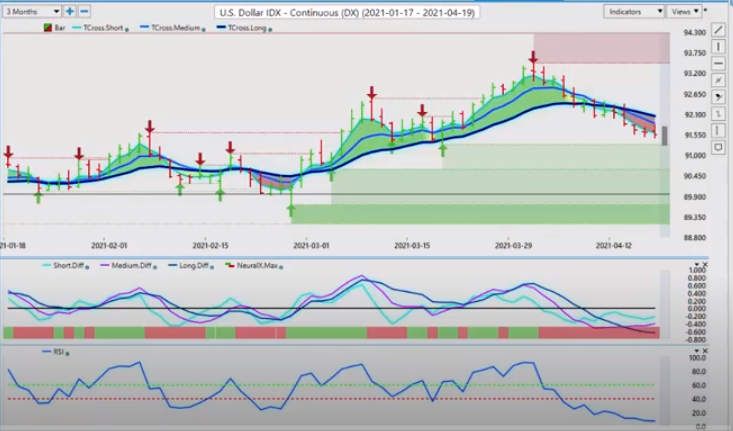 In my respectful opinion, only the fed got it wrong with interest rates, and they're going to have to really rethink their whole policy. I think it's a very reckless policy on interest rates personally. But again, we'll see. I don't think the market is going to continue to buy this. But once again, the dollar will likely strengthen towards the end of next week into the end of the month and into the first week of May like it normally does.
We would expect a little bit more downside, but a very powerful contrarian indicator, the medium term crossing the long term predicted difference, which is warning us, if nothing else, to be very cautious continuing to sell dollars in any large amounts. When we look at gold and do a comparative analysis, the immediate reaction here to gold and the dollar weakness is trying to move higher. Now, once again, when we look at some of the major events that took place this week, Turkey and India now is starting to talk about refusing to take Bitcoin as payments.
Gold
Now, if we remember, it was just last year that Turkey announced to the world that they found colossal amounts of gold, right? And then gold spiked up. But now gold being down nine, 10% on the year, they're getting probably a little bit nervous. When they made that statement, that's when gold made its move up. So whether this is a true move on gold is left to be seen, but either way, gold is going to face a lot of resistance up here up to and including the level which would come in at about 1817. Now, remember, as I've stated many times that the yearly opening price on gold sits at 1904.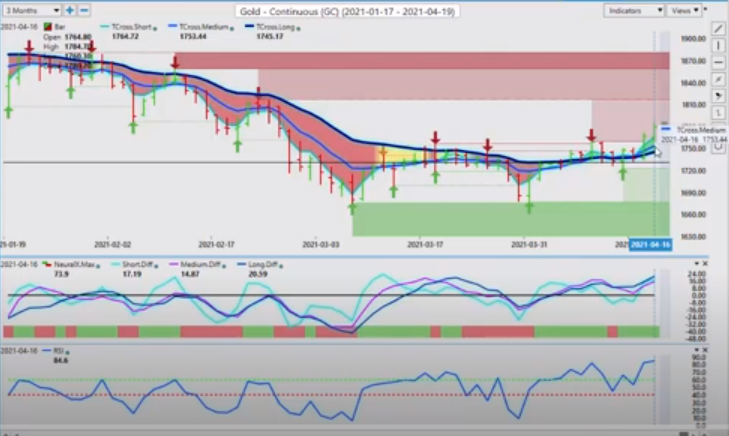 Gold is, I would argue, is not bullish. It's simply correcting higher. We have to see if this particular rally has any legs. But again, this is going to be dependent on the federal reserve also. Are they going to back off their reckless stance on inflation and interest rates and everything? Once again, there're more negatives than positives on gold. But as I've stated multiple times over the last month, that the best way to play this way, it doesn't matter whether you're a gold bull or a gold bear, there's money to be made here. We use these verified zones at the high of 1756.
Personally, I've had about 40 shorts in the last month on this particular contract, but I've also stated and I've stated in the VantagePoint live training room to have a buy limit order sitting at about 1765 and then cut your shorts. But using those verified resistance zones, they gave us the warning that gold was starting to make the push. We can make money on both sides of this by using the key VantagePoint indicators. Now, again, further upside and gold remains to be seen here.
Our medium term has crossed our long term predicted difference, but it bounced off this very important zero line, so we'll continue to monitor.
Bitcoin
But again, if you're trading gold, gold's arch nemesis is not just the dollar, it's Bitcoin. That is really what we want to keep an eye on here. Now, if we come down and we look at the Bitcoin versus the US dollar, we can see this past week we've had a nice corrective move all the way down to 59,684. I respectfully submit that this is not a coincidence that it stopped exactly on that VantagePoint predicted moving average.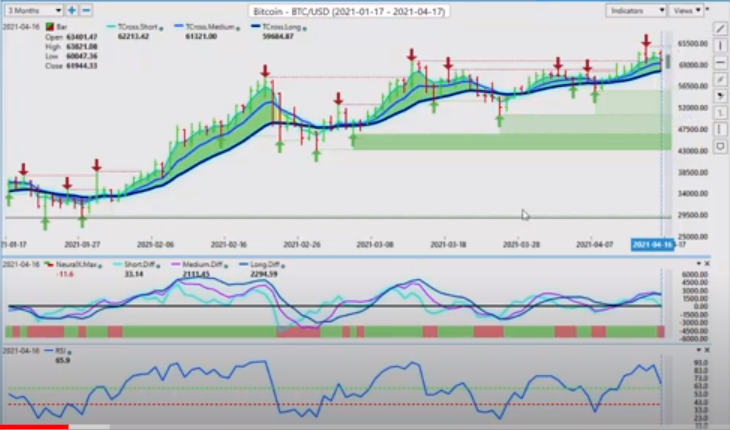 And using that level as a pivot area, it warns us that there's a problem down here. Be careful about shorting it. So again, if Bitcoin can recover next week and just shake off the comments from India and Turkey about not accepting payments for goods and services in Bitcoin, well, they're not accepting payments and gold either, are they? I think that, once again, the market's going to look a little closer at that, but the market obviously in Bitcoin is very jittery up here because of this lofty rally we've had, up well over 100% on the calendar year. I think it's closer to about 180% now.
Once again, we will keep an eye on this main level, 59,684. If we break down below that, then Bitcoin will take a deeper corrective move. But I think that that's probably unlikely at this time. Because again, if these two countries are not going to take payment in Bitcoin, c'est la vie, everybody else is. Again, when we look at this and we do a comparative analysis, the other problem that that I foresee with gold is the amount of money that continues to pour into the S&P 500.
S&P 500 Index
Now, when we look at the S&P 500 a little bit closer, I'm just going to run down here to the cash prices, I like to use that contract too, very, very strong move up. But again, as the market starts to question the fed's process, that could be a problem for stocks. But for now, money continues to move in there. Once again, this is another potential problem here for gold, because they're not going into treasuries and they're not going necessarily unlikely to go into gold, but the market really is heavily long stocks. That's a little bit concerning. But again, we've had a little corrective move back here.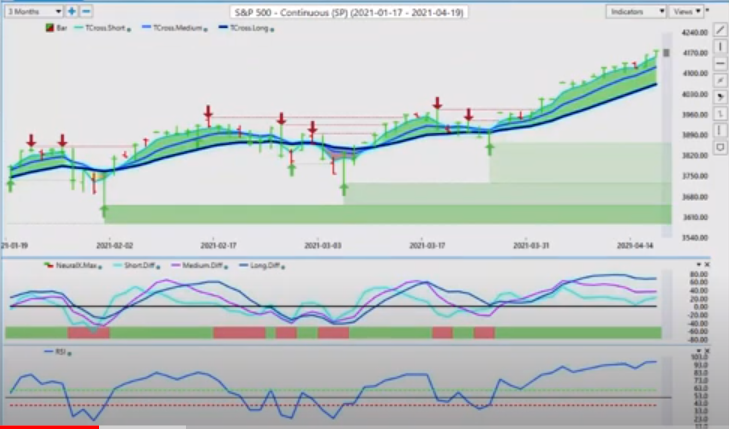 We broke through. Another classic play is when the market breaks a verified resistance high. In this particular case, it broke it at 39.83, rate in this particular section rate here, so that the verified resistance has a dual purpose here as the support. So this is a classic technical breakout point from here and it hasn't looked back. But again, nothing goes straight up and nothing goes straight down. So keep an eye for a potential turning point, but that will likely come when the fed has to concede that maybe they will raise interest rates prior to 2023.
I personally don't think that they're going to have to, or they're going to have to at least comment. There are a growing number of critics. Now, when we look at this going into, again, some of our additional markets, when we look at light sweet crude oil, light sweet crude oil is, again, piggybacking off. This is the basis of intermarket technical analysis. That oil is simply piggybacking off that strength on the S&P 500. We broke back up here. We've taken out a verified resistance high here. To begin next week, as long as stocks can rally, oil will push higher also.
Crude Oil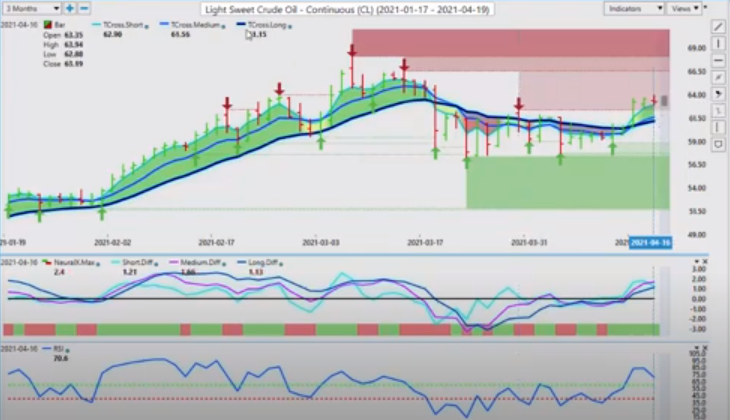 That key T cross long, 61.15, long well above that particular area. You can break it down further for a potential entry point using the blue line by itself. The predicted moving average now 61.89. We would look at that area for a potential long when the S&P 500 corrects lower, which we know it probably will. It doesn't mean that it's a trend reversal here, guys, because again, it's perfectly normal for the market to have fairly significant swings in equities and in commodities, not to mention currencies, but currencies are slightly smaller on their swings.
Euro versus U.S. Dollar
Right now we'll continue to monitor that particular level. Now, as we move into our Forex trading for this week with the number one traded currency, which of course is the Euro-US. Now, again, we look at that correlation, a very 85, 90% correlation to gold. As I've discussed this with my own direct clients, we have verified resistance coming up here just below the 1.20 mark. We have failed at this particular verified resistance high here. Three times we have failed at this, but we've got a bottom in here. This particular bottom is slightly different than gold.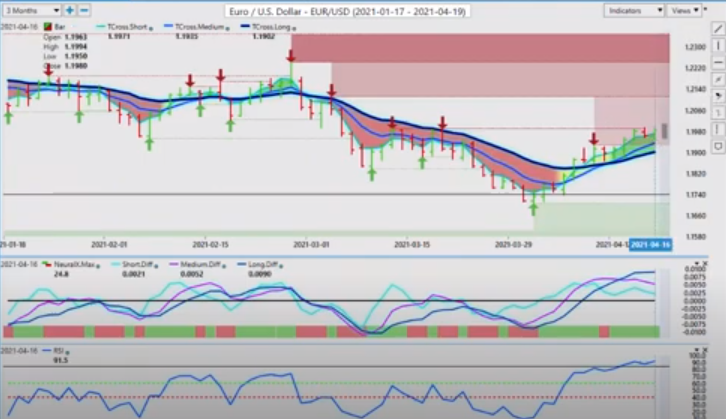 We have continued to make lower lows on the Euro. Where on the gold contract, you can see, if we come back and do a quick peek at that gold contract again, this is the first time in 2021 that we actually didn't make a new low on gold and we formed a double bottom. Now, a lot of technical analysis people are saying, "Well, that's it. Now gold is going to go higher." But just remember, we're still firmly bearish gold on the year. So if we look at that, then that would tell us that we're basically just correcting higher, also on the Euro. The Euro yearly opening price there about 1.2235.
This first area or this first obstacle that the Euro must break through is the 1.20 mark, 1.1989 to be specific. Then we would move higher towards the end of the month, and we would target maybe close to the 1.21 mark. But at that time, we would probably be pushing towards the end of April. And at that time, we would also be looking to short. Now, once again, when we match the verified resistance high along this area and we look at the VantagePoint software, all we're doing is looking for the neural index to turn red for a day or two in a row.
And that will tell us that that's it for the Euro correction and we're getting ready to move back down. That's the way we would look at this in our software. If we look at the verified resistance, it's very, very stiff, between 1.21 and 1.20 is your cells zone here, guys. And we look at the predicted RSI 91.5, not a lot of room to move here. Keep an eye on those key levels. And again, you can break it down using the blue line by itself as a daily pivot area. When we look at this, it's more than likely the Euro is going to try and make a push on Monday. You would look at this and match this.
The predicted low 1955 and the long predicted at 1949. If you're a buyer, that's where you would target to start the week and every day thereafter, or in the alternative, you would have sell limit orders below 1.1949 ready to go in case this is a bull trap. There's a very strong possibility here, guys, that this is a bull trap towards the end of the month. Now with the pound-dollar, the pound dollar, very different animal. And again, with Brexit coming into play, normally we would see the Euro and the pound go up together. That's just not the case. The pound, we saw a lot of buyers move in here on Friday.
British Pound versus U.S. Dollar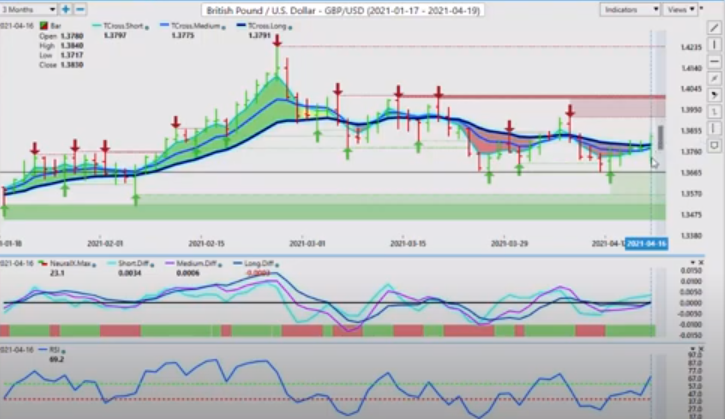 And in my respectful opinion, that's what pushed stopped the Euro-US from breaking the 1.20 mark because of the Euro-Great Britain cross pair. In order for them to buy Great Britain-US, or excuse me, in order for them to sell Euro-Great Britain, they have to buy Great Britain-US and sell Euro-US. And with Brexit and these two separated now, it's not the same trade anymore. So you really want to watch the Euro-Great Britain pair. If Euro-Great Britain is going up, Euro-US is going up. If Euro-Great Britain is going down, likely Euro-US is going down and Great Britain-US is going higher.
That's what appears to be forming right now. That could be considered strike two for the Euro currency. So keep a very close eye on the pound-dollar, if you're trading that, and these key Vantage Point levels. 1.3791 is a critical level. And if we click on our F8 to start the beginning of the week, I think that that's an excellent long opportunity setting up, 1.3777, and we've got our VP predicted low at 1.3771. This is how we target our entry points using the predicted low and matching it to the predicted moving average. So again, 1.3777 is an excellent starting point to begin the week.
U.S. Dollar versus Japanese Yen
Now, with the dollar-yen, I've discussed this multiple times also. The dollar-yen is… The yen, the Japanese yen, is tied to gold just like the Euro, guys. Same as the Swiss Franc. So if gold is a bull trap up here, then that translates into a bear trap on the dollar-yen pair. If gold firmly breaks out, then you will see US-Japan breakdown below 1.0841. And it should be a relatively easy short. I'm just not convinced that gold has a lot of upside potential at this current time. But by using these verified zones, we can identify this.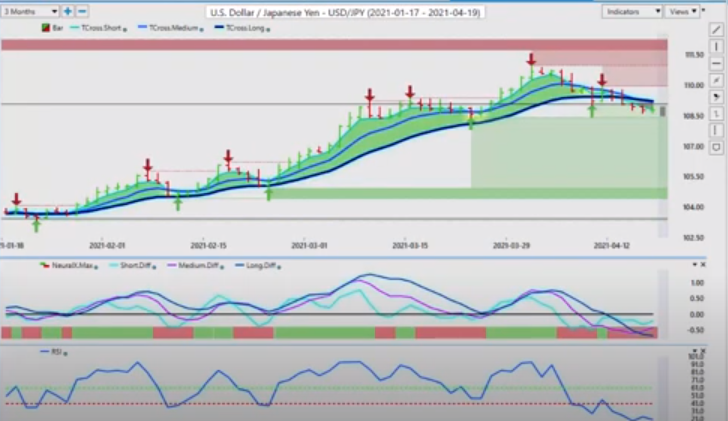 Now, once again, when we look at one of the most powerful indicators in our VantagePoint software, the medium term trend is weakening against the long term trend, this pink line crossing that predicted difference, and we have a verified support zone sitting there also. A lot of things here are pointing to a potential bull and bear trap setting up all over the place here, right? We know we have pending dollar strength coming towards the end of the month when we look at those cycles and the dollar.
Watch this support level very closely and let's see if the predicted differences can continue to advance. Once again, our predicted RSI at 20, it has room to extend to the downside and the angle or the slope of that predicted RSI is still saying we have downward momentum. But again, if you're trading the dollar-yen, you are trading gold, guys. You just don't realize it.
U.S. Dollar versus Canadian Dollar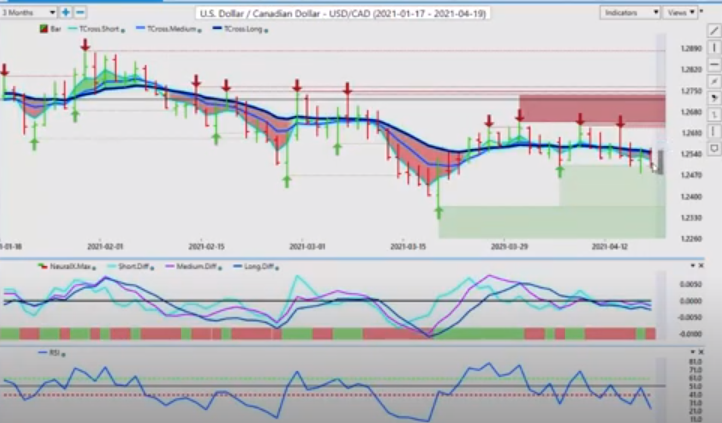 Now, with the US-Canada, we, I believe we have the Bank of Canada next week, but predominantly, at what I've stated on here and with my own direct clients is that I've stated the yearly opening price is 1.2720 short, well below that level here, guys. And then we use the VantagePoint levels to get into these traits. So once again, if we look at how a trade sets up from a predictive standpoint, we have 1.2547 right here, which is our T cross long. Then we have our bench point predicted high to start the week. That level is coming in at 1.2551. Canada is kind of a wacky currency.
The US-Canadian pair is very crazy what it does. I would expect it to go screaming to the upside on Monday, only to reverse back down on Tuesday. This is a repetitive pattern I've seen. Whatever US-Canada does on Monday does the exact opposite on Tuesday, but these VP levels are still firmly bearish on this particular pair. We identify that level of one… In this particular case, the VantagePoint predicted high and the T cross long are at the exact same levels. So that would put fair value somewhere between one…
I would argue these verified resistance highs could be tested on Monday briefly if equities turn, but that high is coming in at about 1.2628. Your sell zone here is between the VantagePoint predicted high, the T cross long, and keep all stops above 1.2640 here, guys. You don't want to get stopped out in this area here. It's a sucker's bet. That's why we've got these verified resistance zones here to warn traders. That just because it goes higher for one day, that doesn't make a trend here. It just doesn't. Keep a very close eye on the aforementioned level with a bias to the downside.
Now, if the US-Canadian pair continues to move lower, then we will see Aussie-US and New Zealand-US continue to move higher. With equities right now, we've got a fairly fresh triple EMA cross. I think we've got another week or so, week and a half, of buying Aussie-US and New Zealand-US. So we simply identify these levels, .76, .75. Everything looking pretty decent here. Once again, when we click on our F8, if we match the blue line long predicted, .7702, this is what I will do on a daily basis. The predicted low is at .7719.
Australian Dollar versus U.S. Dollar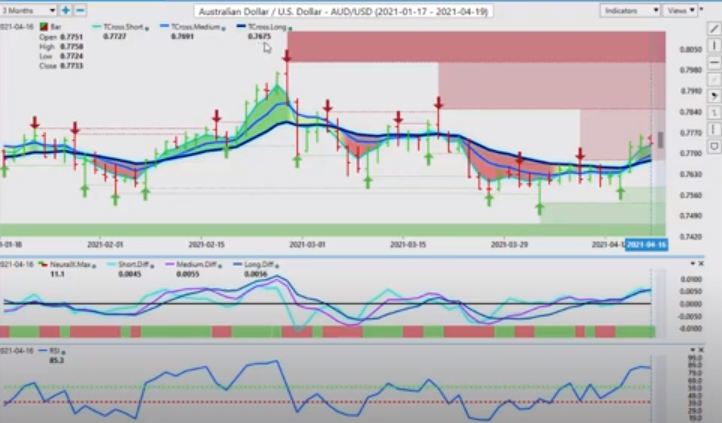 So once again, our buy area for the Aussie-US would be between these two levels all the way down to .7702. That's the way we would look at this from a daily standpoint. Everything here still looks pretty good. Let it retrace back a little bit. The Aussie still looks fairly decent for longs, as, of course, does the New Zealand. But remember, these are not different trades. They're almost identical here. It's one or the other, but never both at the same time, guys. And often this is confused in the Forex market. Just like I tell people stocks, you don't want to be holding 20 stocks at once.
They're either all good, or they're all bad, because they're all tied to the S&P 500. The Aussie and the New Zealand have one thing in common, they're both being traded against the US dollar. Conceptually, it's the same. When we look at the T cross long .7085, this is the level we want to watch here for a retracement. But again, if you click on your F8, this is a very nice daily setup with the software using the long predicted or one of the other predicted moving averages if you so choose, and then match it to the predicted low.
New Zealand Dollar versus U.S. Dollar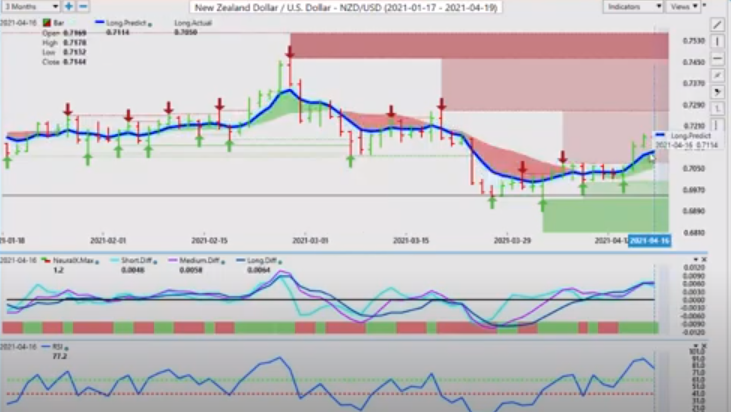 We would look at that from a buying standpoint for the market to pull back to this area so we can turn around and get long. Excuse me. And that particular level now on New Zealand comes in at or about the .7138 area, New Zealand long predicted .7114, so between .7114 and the apprehension level, this is how we would set it up. So once again, we're likely going to have a choppy week ahead. But with that choppiness, there is opportunity. So with that said, this is the VantagePoint AI Market Outlook for the week of April the 19th, 2021.